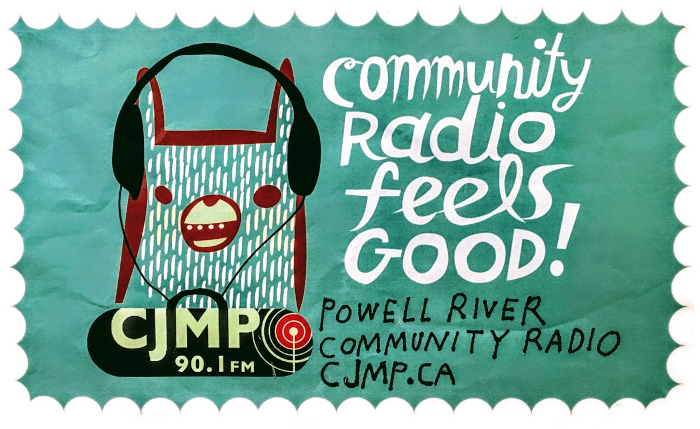 CJMP 90.1 FM
qathet's Community Radio
CJMP 90.1FM is the voice of community on the shores of the Salish Sea. Wanna get involved?
Astrology Today
with Moreen Reed
Crowd Control
DJ Tony P

Fridays Noon to 2pm
The Crowd Control radio show and it's host , DJ Tony P, uses his two hours to create a soundtrack to a movie yet written that changes on a weekly basis. Late night tones on a early afternoon  time slot is his style and a good , eclectic mix is what you get.

Ritmo y Sabor/ Rythm & Flavour
with DJ Red Hot & DJ Minerva
Thursdays 7pm-9pm
Ritmo Y Sabor/Rhythm and Flavour is a world travelling celebration of music that lifts the soul and moves the body, brought to you by Minerva and redhot.
Photo credit: AriDubLion
Blast From The Past
with Darlene
Sundays noon-1pm
Thursdays 10am-11am
Real Talk
with EvilGhettoBarbie
Mondays & Wednesdays
11am-noon
A Guy Can
with DJ SaVan
Mondays 2:30pm-3pm
My Show is about  a Guycan because I'm a Guyanese Canadian.
I feature Soca Reggae and Chutney 
DJ Kenny
 Mondays 3:30pm-4pm
Every Monday, DJ Kenny brings you great music, the weather, the Kings Hockey report, Bear & Fire reports "when in season", and just an all around fun time.
Country Revival
wit Darlene
Mondays 9pm-10pm & Saturdays 3pm-4pm
Writing the Coast: The BC & Yukon Book Prize podcast
hosted by Megan Cole
Tuesdays & Thursdays 3pm-4pm
The official podcast of the BC and Yukon Book Prizes. On this weekly podcast, host Megan Cole interviews the winners and finalists of the annual BC and Yukon Book Prizes, as well as book lovers from across Canada.
Scream Therapy
hosted by Jason Schreurs
Tuesdays & Thursdays 4pm-4:30pm
Scream Therapy is a podcast that explores the link between Punk Rock and mental health hosted by Jason Schreurs. Guests include members of the underground music scene living with mental health challenges.
Auto Reverse
with Matt & Tony
The No BS Vegan Podcast
hosted by Karina Inkster
Wednesdays  6pm-6:30pm
Myth-busting and evidence-based advice to help you kick butt with your health and fitness–on a vegan diet.
The Unending Subtleties of River Power
with David Parkinson
Feeding Time
with Nabob
Fridays 4pm-5:30pm
Join me, Nabob, for a taste of World Music, focusing primarily on music from the continent of Africa, and beyond. I bring you my best finds of the week, on Feeding Time. Music that you may not hear anywhere else.
Every Day Is Like Sunday
with bad karen
Fridays 5:30pm-7pm
Bad Karen brings you all you need to know for the weekend and beyond
Cowbell Radio
with DJ Kamandi
The Pow!Town Get Down Show
with DJ Triple Dub
CJMP 90.1 FM is pleased to welcome new and returning sponsors to the CJMP family. Our beloved sponsors help keep us on air, so please let them know you appreciate what they're doing by supporting them and thanking them for supporting local independent media.